A Day at Busy Bees
Our school day is broken into two sessions. Both sessions follow a similar format where the children are free to choose how they learn in our free-flow classroom.
On arrival your child will 'sign-in'.  This usually entails adding their picture to our registration wall.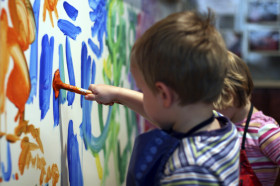 The session progresses with adult-led group time where we will choose a 'special helper' for the session.  This child has some extra tasks during the session for which they are responsible – we introduce children to the concepts of independence and responsibility.
Children are encouraged to move throughout our pre-school, inside and out, no matter what the weather is.  They are able to experience phonics, mark making and number work in all areas.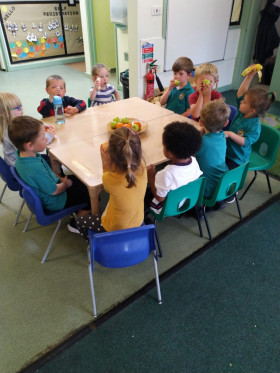 During the session we have adult-led activity based areas which pick a theme that the children have shown an interest in.  This can include the lifecycle of a butterfly, dinosaurs, mud making and cookery to name a few things.

Everyone stops half-way through the session to enjoy their snack together.
There will be further free-flow learning until towards the end of the session when your child will enjoy a story or musical activity before heading home.